Instructions
Serving Size: 2.5g /cup
Steeping Temp: 100°C
Steeping Time: 2 (up to 2 with milk) mins.
Certification: Organic
Origin: Various
Caffeine: Medium
Cinnamon Dulce de Leche
Dulce de Leche, pronounced:"Dul-say de leshay", literally means sweet or sweetened cream in Spanish. Paired with cinnamon and black tea, this blend is almost indulgent and we love it!
Story, Folklore, History...

The origins of dulce de leche are not quite known, but it is said to have originated in Argentina in 1829. In the midst of a war, generals from each side decided to meet and end the war. General Manuel de Rosas was not at his tent when General Lavalle arrived from the opposing side. Genereal Lavalle was tired, and lay down to sleep in the tent of General de Rosas. A woman nearby was preparing la lechada, a sugary milk, for the camp. When she went to go tell General de Rosas and saw the enemy in his tent, she ran to get soldiers as she was unaware of the intended treaty. General de Rosas arrived just in time to prevent the soldiers from disurbing the sleeping General Lavalle. By the time the woman remembered la lechada cooking it had already become a thick dark brown substance. A brave soldier tried out the jelly and found the taste to be amazing. And so dulce de leche was born.
Tasting Notes
Certification: Organic
Grade or Quality: Loose
Aroma: Creamy, sweet
Infusion Aroma: Sweet, cinnamon, fruity
Infusion Color: Amber
Base flavor: Sweet
Infusion Strength: Medium-Strong

Have you tried Cinnamon Dulce de Leche? Tell us what you think!
Please login or create an account in order to post a review and rating.
Good but not amazing,

Submitted by Kiki27
This tea is amazing! It smells and tastes like a cinnamon bun!! It has enough natural sweetness that I was just about finished it before I realized I hadn't added any sweetener, but it's not overpowering.

Submitted by GemStone Teas
LOVE this tea - such a treat anytime of the day, especially as the days get colder.

Submitted by caromarco
Tried this with a friend. It's sweet without being overpowering. Definitely one of my favorites!

Submitted by j3ssica
Tried this tea for the first time. It is truly lovely, warm and sweet and just a touch spicy. Great for fall and winter sipping.

Submitted by shan
This tea is unreal. It is SO delicious: warm, rich, sweet and comforting. One of the best teas I have ever had!

Submitted by juliatea
So glad it's back this fall!
One of my favorite.

Submitted by mart
Cinnamon - history, varieties and health benefits -
by Safiya Motala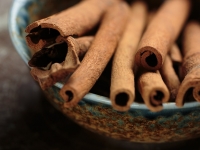 Cinnamon has a rich and exotic history over the last 4000+ years. It has been used in foods as a medicine, a spice, to preserve meats, and was seen as a luxury item only accessible to the wealthy. Ancient Egyptians even used cinnamon as an embalming agent. Arab merchants, who kept the source of this ingredient a secret for many years, distributed cinnamon in limited quantities in order to maintain a monopoly on the expensive cinnamon trade.
Today, there are two varieties of cinnamon that we encounter most frequently. Cinnamonium cassia (cassia cinnamon) and Cinnamonium zeylanicum (Ceylon cinnamon). Some people refer to Ceylon cinnamon as true cinnamon. There is some debate on the superiority of Ceylon cinnamon vs. cassia.
Ceylon
Offers a more delicate flavour, and is slightly sweeter. Excellent for use in desserts.
Considered by some to be the superior cinnamon, and is more expensive than Cassia.
According to Health Canada's Natural Health Products database, Cassia can be used to treat bowel complaints (dyspepsia, flatulency,...