Instructions
Serving Size: 2.5g /cup
Steeping Temp: 100°C
Steeping Time: 5 mins.
Certification: Organic
Origin: Various
Caffeine: Naturally Caffeine-Free
Chocolate Orange
A festive and delicious blend that is naturally caffeine-free. Rich and flavourful, a blend of honeybush with a chocolatey orange taste that the whole family can enjoy. A small touch of cinnamon adds a warming feeling and a sweet, gentle touch of spice. You'll certainly want to stock up on this tea while quantities are still available!
Food pairings: This tea will pair well with mildly flavoured desserts, such as sugar cookies, as well as chocolates and chocolate treats. It will also pair well with oatmeal or other meals that have mild flavours with a hint of sweetness. Want some caffeine? This tea pairs well with black tea too. Add black tea at a ratio of 1 part black tea to 4 parts Holiday Cheer to get a balanced flavour. Make sure to adjust steeping time to account for the addition of black tea. Want to make it all grown up? Add a splash of rum and you've got a sweet cocktail that's sugar-free and perfect for the holidays.
Tasting Notes
Certification: Organic
Grade or Quality: Loose
Aroma: Chocolate orange
Infusion Aroma: Chocolate orange
Infusion Color: Warm amber
Base flavor: Citrus
Infusion Strength: Medium-light

Have you tried Chocolate Orange? Tell us what you think!
Please login or create an account in order to post a review and rating.
Tried this one and was thinking something was missing from it. Tried another cup, found using the perfect teaspoon and letting it steep longer made a huge difference. Now I like it.

Submitted by Jean
Tastes like Christmas!! Delicious!!

Submitted by Niobegirl
I'm drinking this the whole month of december!

Submitted by Tea man
Health: The Mighty Cacao Bean -
by Safiya Motala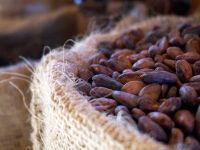 Chocolate has a long and rich history. 4000-5000 years ago (about as old as tea!) the Aztecs were grinding cacao beans and adding to drinks and foods. From there it spread across the world, originally only a luxury the very wealthy could afford. Eventually, chocolate production became easier – the Industrial Revolution helped this – and chocolate became more accessible to all. Today, we see chocolate in everything from inexpensive candy bars to luxury truffles and drinking chocolate. The cacao bean is so widely loved, but only recently is coming into the spotlight as an ingredient on its own. Cacao nibs are great for snacking or cooking with, while real cacao powder is a great ingredient for beverages, baking, smoothies and more.
Luckily for us, these little beans not only make our beloved chocolate treats, they're also full of health benefits!
Antioxidants: Cacao beans are full of antioxidants. Antioxidants help fight damage caused by free radicals in the body.
Flavanoids: Basically the source of antioxidants, flavonoids...
---
How to make delicious iced tea -
by Richard Isaac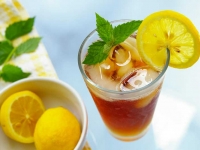 Spring is here, time to break out the iced tea!
There are quite a few methods for making iced tea, selecting the right method really depends on the tea leaves or herbs you are using to make the infusion. You can use any kind of tea or herb to make iced tea, but some are a bit more temperamental and require a bit more attention. Over the past years we've held quite a few iced tea-making workshops so some of our Ottawa customers are probably already familiar with a lot of these iced tea methods, but in case you need a refresher, read on. This guide is intended to help you figure out which method is best for your tea of choice. At the end of the guide will be some links to Shanti Tea's Iced Tea Pouches, which will make iced tea-making this summer deliciously effortless.
Iced Tea Preparation: Read It In The Leaves
The most important factor which determines the method you will be using to make your iced tea...