Instructions
Serving Size: 2g /cup
Steeping Temp: 100°C
Steeping Time: 5 mins.
Certification: Organic
Origin: S. Africa
Caffeine: Caffeine Free
African Mint
A very simple blend of African honeybush and spearmint produces a cool and refreshing caffeine-free iced tea, with a light-amber infusion. Simply irresistible!! Although it originated in Morocco, mint tea is served all across North Africa. It is believed that green tea was first introduced to Morocco in the 18th century, and began spreading through the country in the mid-19th century at the time the trade between the Maghreb and Europe started flourishing. Mint tea is a drink of hospitality, commonly served to guests.
Tasting Notes
Certification: Organic
Aroma: Sweet mint
Infusion Aroma: Light mint
Infusion Color: Deep Amber
Base flavor: Sweet honey, mint
Infusion Strength: Medium-light

Have you tried African Mint? Tell us what you think!
Please login or create an account in order to post a review and rating.
This tea is absolutely scrumptious! I even use it in place of peppermint when I want a bit more sweetness in a blended herbal tea.

Submitted by ginnylynn
We drink it summer and winter as well, nice minty flavour.

Submitted by Tea man
A friend gave me a sample of this! delicious! highly recommend

Submitted by Nicholas Canning
This was so good! i love spearmint

Submitted by LeftCoastTea@gmail.com
I bought this blend as a test and i'm back 2 days after receiving it to buy a bigger quantity. Its so good it is now my favorite blend !

Submitted by myllady
This is one of my favourites. I love the spearmint/honeybush mix!

Submitted by Jocelyne
Refreshing with a lovely sweet note from the honeybush. Wonderful hot or iced.

Submitted by J
The Herb That Cannot Be Vanquished -
by Shanti Tea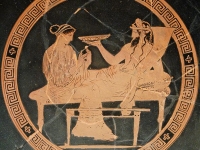 Mint: not only something to brush your teeth with or adorn the tea tables of old ladies playing bridge. This delicious Old World herb has a myriad of uses in cuisine, herbology and medicine, and popular mythology.
Though spearmint is a common enough ingredient in many gardens throughout the world, known for its sweet smell and tendency to be invasive, it is also known for the fact that it makes one of the most delicious teas around. Luckily, it's spicy flavor and easily recognized pungent smell are only heightened by the addition of another herb to this blend.
African mint tea is a very simple mix of spearmint and honeybush, which is another of the most common tea-making ingredients. Similar to rooibos in nature, honeybush has a naturally sweet flavor (hence the name) and grows only in limited areas of South Africa's southwest and southeast corners. It is commonly used on...