Instructions
Serving Size: 2.5g /cup
Steeping Temp: 88°C
Steeping Time: 3 min mins.
Certification: Organic
Origin: Shanti Blend
Caffeine: Light
White Rose
Roses have long been a symbol of love and beauty. This blend of organic rose petals and white tea's silky smoothness is exquisitely subtle and supremely healthy. High in antioxidants and vitamin C, this delicate white tea blend will be the beginning of a long lasting love affair.
Story, Folklore, History...

In Greek mythology, Aphrodite, Goddess of Love, is said to have created the rose which arose from her tears and the blood of her lover Adonis. The Romans, turning Aphrodite into their goddess Venus, also adopted the rose: it became the symbol of love and beauty. The culinary use of edible blooms dates back thousands of years, with the first recorded mention in 140 BC.
Tasting Notes
Certification: Organic
Grade or Quality: Full Leaf
Aroma: Sweet Floral
Infusion Aroma: Delicate Floral
Infusion Color: Gold
Base flavor: Floral
Infusion Strength: Medium-Light

Have you tried White Rose? Tell us what you think!
Please login or create an account in order to post a review and rating.
What is White Tea? -
by Safiya Motala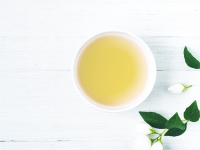 There are different varieties of tea available, but do you know what each one is? In this blog series, we will explore a different type of tea in depth. White tea is the least processed of all tea varieties, so we will start here.
All tea comes from the same plant, Camellia sinensis. Within Camellia sinensis, there are two different varieties, sinensis and assamica. Assamica is typically found in the Assam region of India, and sinensis is found in most other parts of the world where tea is grown.
So what makes tea white? Actually, very little. White tea is the closest you can get to a freshly picked leaf. It is basically a tea leaf that is dried and not processed at all.
Let us take a more in-depth look at this variety of tea.
Region:
Most white tea comes from China, although more and more tea growing regions are beginning to produce white teas. The two most popular white teas from China are Read the rest of the article on our blog.