Instructions
Serving Size: 2.5g /cup
Steeping Temp: 100°C
Steeping Time: 5 mins.
Certification: Organic
Origin: India
Caffeine: Caffeine Free
Rose Petals
Beautiful and aromatic red rose petals. Sun dried, organically grown, no buds. There are many uses for rose petals such as tea bends, food decorations, oil infusions, skincare, soap, as natural confetti and in DIY Projects.
Story, Folklore, History...

The rose is a woody perennial of the genus Rosa, within the family Rosaceae. There are over 100 species. They form a group of erect shrubs, and climbing or trailing plants, with stems that are often armed with sharp prickles. Flowers are large and showy, in colours ranging from white through yellows and reds. Most species are native to Asia, with smaller numbers native to Europe, North America, and northwest Africa. Roses are a favored subject in art and appear in portraits, illustrations, on stamps, as ornaments or as architectural elements. The Luxembourg born Belgian artist and botanist Pierre-Joseph Redout
Tasting Notes
Certification: Organic
Base flavor: Floral

Have you tried Rose Petals? Tell us what you think!
Please login or create an account in order to post a review and rating.
Darjeeling - the "Champagne of Teas" -
by Alicja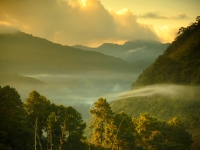 Darjeeling, the land from where the well-known and admired tea comes, famously described as the champagne of teas, is situated in the foothills of the Himalayas, located in the state of West Bengal, India. Ranging from 100-4200 meters, this mountainous region, borders Nepal, Bhutan and Tibet. The cool, damp climate, constant mist and the high elevation of Darjeeling combine to produce a flavor profile typical of Darjeeling. Presently Darjeeling has 87 gardens, spread over 17,500 hectares. It employs over 52,000 people of which 60 per cent are women. The region's economy is heavily dependent on tea. The Plantations Labor Act 1951 protects the rights of tea garden workers. Like Champagne grapes, Darjeeling tea achieved "Geographical Indication" status, protecting the name of "Darjeeling Tea" to be used only on teas produced in that region.
The seasonality of Darjeeling tea, described as flushes, bring out different flavor from the tea that is picked from the same plants during different times of the year.
There are three major tea flushes grown and harvested in Darjeeling:
First Flush (mid-March to May)
Second Flush (June to mid-August)
Third Flush (Autumn Flush) (October to November)
<...