Instructions
Serving Size: 2.5g /cup
Steeping Temp: 100°C
Steeping Time: 5 mins.
Certification: Organic
Origin: Various
Caffeine: Caffeine Free
Ginger Mint Comfort
A delicious and refreshing blend of chamomile, peppermint and spices, great as an after-meal tea. Helps in digestion, soothing the stomach acids and bloating. Chamomile and lemon balm are calming to the body and help to unwind after a long day. Anise, fennel and peppermint are refreshing and cleansing to the taste buds. Take time to rest and digest.
Tasting Notes
Certification: Organic
Aroma: Minty, spicy and sweet
Infusion Aroma: Sweet and minty
Infusion Color: Green/Gold
Base flavor: Notes of sweet spices and mint
Infusion Strength: Medium-Light

Have you tried Ginger Mint Comfort? Tell us what you think!
Please login or create an account in order to post a review and rating.
Dial it in: Water temperature by tea type -
by Richard Isaac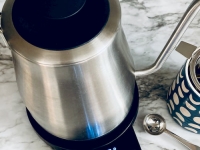 If you want to up your tea game, water temperature is a good place to start. Together with tea quality and steeping time, water temperature is one of the most important factors involved in brewing a perfect cup of tea.
While it's often the default, boiling water is sometimes too hot.
But if you've been flicking on the kettle and dousing boiling water on all of your teas, don't worry – we aren't here to retroactively ruin years of perfectly good tea.
Each type of tea has unique needs when it comes to water temperature; dial it in and you can really maximize the flavour of your infusion.
Black – Steep black teas like English Breakfast or Assam at 93°C - 100°C (200°F - 212°F).
Oolong – Darker Read the rest of the article on our blog.