Instructions
Serving Size: 2.5g /cup
Steeping Temp: 100°C
Steeping Time: 5 mins.
Certification: Organic
Origin: Albania
Caffeine: Caffeine Free
Raspberry Leaf
Raspberry leaf tea has been used for centuries as a folk medicine to treat various medical conditions. Raspberry leaf is very rich in many vitamins and minerals such as vitamins C, E, B, phosphorus, and potassium as well as in phytonutrients. Due to its tannin content, it has been used to alleviate diarrhea, or used as a mouth-wash to heal mouth sores and ulcers.
To make Raspberry leaf tea, take 28 grams of Raspberry leaves. Bring 2 cups of water to a boil in a medium saucepan. Remove from heat and add Raspberry leaves. Let steep for 10 minutes. Strain and serve. It can be served warm or cold. It tastes very similar to regular tea without the caffeine, which makes it wonderful in the evening. It can also be mixed with Nettle Leaf and Peppermint Leaf to ease nausea or bloating sensation.
Tasting Notes
Certification: Organic
Base flavor: Vegetal

Have you tried Raspberry Leaf? Tell us what you think!
Please login or create an account in order to post a review and rating.
Tea Legends: The Moon Princess - Osmanthus Petals -
by Richard Isaac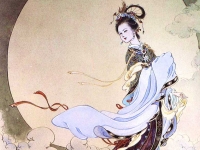 Osmanthus is a species containing over 30 different varieties, most of them hailing from Asia, but one native to the United States as well. These plants give a lovely dried petal of bright yellow, and can be drunk on their own if desired for health reasons, or combined with black or green tea leaves in much the same manner the more familiar jasmine tea combines jasmine flowers with tea leaves.
Osmanthus are popular shrubs in parks and gardens throughout the warm temperate zone. Several hybrids and cultivars have been developed, and osmanthus' place in both the tea drinking world and in Chinese medicine, which has more and more of an appeal to Western culture, are well established.
Beyond its medical applications, osmanthus is also used to make a valuable perfume. The flowers, which range from white to light yellow to a deep orange like the ones featured through our tea company, are all capable of producing a lovely scent. However, the deeper colored flowers are generally regarded as producing the nicest perfume, and are therefore...