Instructions
Serving Size: 2.5g /cup
Steeping Temp: 100°C
Steeping Time: 5 mins.
Certification: Organic
Origin: Egypt
Caffeine: Caffeine Free
Lemongrass
With its lemony scent and hint of rose aroma, lemongrass is wonderful herb for a delectable herbal tea. It calms the nerves and soothes the mind. Many Thai restaurant serve it with their dishes. A cup of lemongrass tea is a go-to alternative remedy for upset stomach, stomach cramping and other digestive problems. Lemongrass tea is also used as a natural remedy for menstrual cramps, bloating, and hot flashes. This pure, organic lemongrass (also called citronella) is made from the tall, stalky plant of lemongrass. Lemongrass tea is perfectly suitable for kids.
Tasting Notes
Certification: Organic
Aroma: Citrus
Infusion Aroma: Citrus
Infusion Color: Pale yellow
Base flavor: Citrus
Infusion Strength: Medium

Have you tried Lemongrass? Tell us what you think!
Please login or create an account in order to post a review and rating.
Cool down with iced tea cubes -
by Richard Isaac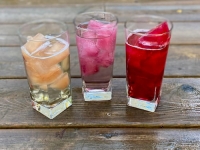 With the weather heating up, iced tea season is in full swing. And while there's nothing quite as refreshing as a perfectly brewed cup of iced tea (maybe with a squeeze of citrus), if you're looking to up your iced tea game, try cooling down with iced tea cubes!
How to
It's as simple as it sounds: choose your favourite teas and freeze them in ice cube trays. You can pour hot tea directly into the ice cube tray, or you can use a batch of iced tea (if you are new to brewing iced tea, or you would like more details on the various methods for each type of tea, explore our detailed post on how to make delicious iced tea). A 16 oz canning/mason jar holds roughly enough tea for one standard-sized ice cube tray. To really make your summer drinks come alive, choose teas with dark or brightly-coloured infusions. We used Hibiscus Tea, Read the rest of the article on our blog.