Instructions
Serving Size: 2.5g /cup
Steeping Temp: 100°C
Steeping Time: 5 mins.
Certification: Organic
Origin: Argentina
Caffeine: Caffeine Free
Lemon Verbena
Lemon verbena, also known as vervain, is well recognized as the most strongly scented and intense of the lemon scented plants. The scent has inspired writers to poetry and prose in an effort to describe its essence, which is both crisp and relaxing at the same time. Because of its scent, lemon verbena is commonly used in aromatherapy, perfumery, soaps and cosmetics. It is also used in baking as a flavoring, in jelly making, preserving and in tea blends. The flavor of lemon verbena has been likened to a cross between licorice and camphor, and it is widely used as a substitute for lemongrass and as a refreshing lemon flavor ingredient in sorbets, liqueurs, fish and poultry dishes. It is excellent for flavoring summer drinks too!
Story, Folklore, History...

Lemon verbena plant has an incredibly strong minty-citrus scent that is quite powerful when harvested fresh, however the dried lemon verbena is less over-powering and more subtle. It is indigenous to Argentina and Chile, and it was brought to Europe in 18th century. It is used medicinally and as a tea it is believed to have digestive, antispasmodic and sedative properties.
Tasting Notes
Certification: Organic
Grade or Quality: C/S
Base flavor: Sweet

Have you tried Lemon Verbena? Tell us what you think!
Please login or create an account in order to post a review and rating.
Recipes: 5 Delicious Iced Tea Recipes -
by Safiya Motala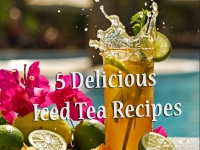 If you are looking for ways to stay cool this summer, or just want to enjoy your tea in new and creative ways, get started with these 5 simple and delicious iced tea methods. Iced tea makes a great alternative to juice or even fruit infused water! Tea is full of antioxidants and provides other health benefits, plus it tastes great!
Making iced tea is easy! We like the cold brew method, it gives the a more balanced flavour and complexity compared with the hot brew method. It's also incredibly simple! Just add tea and optional additions to cold water and pop in the fridge.
When making iced tea, we usually put the tea loose into the container and strain it out when ready to serve. If you are adding fruit pieces and want to keep them in the iced tea after you remove the tea, you may find that using a t-sac is easier than your re-usable infuser. We suggest using the #4 size for iced tea. T-sacs are biodegradable and easy to use!<...