Instructions
Serving Size: 3g /cup
Steeping Temp: 100°C
Steeping Time: 2 to 5 mins.
Certification: Organic
Origin: Sri Lanka
Caffeine: High
Irish Breakfast
A very strong and bold black tea blend, with pronounced earthiness and maltiness. Recommended at a long steep, with milk and sugar to bring out the flavors, this is a real winner in the mornings. The smaller leaf grades allow for greater caffeine infusion into the water. A good coffee replacement. Feeling a bit rowdy? Throw us some comments below!
Directions...
2 min without milk, 5+ min with milk
Tasting Notes
Certification: Organic
Grade or Quality: GBOP
Aroma: clean, slight fruitiness
Infusion Aroma: slightly fruity
Infusion Color: Dark amber
Base flavor: malt, light fruitiness
Infusion Strength: Strong

Have you tried Irish Breakfast? Tell us what you think!
Please login or create an account in order to post a review and rating.
One of the few teas where I immediately noticed the aroma when I opened the package. It smells amazing. It also tastes amazing if you like a strong cup of tea with milk. One of my favourite teas and definitely my favourite Irish Breakfast.

Submitted by Noelle
I loved this black tea.

Submitted by Bluebell Rivers
I love this tea, it's great for the mornings! It's definitely a strong blend, and the floral and malty flavours are wonderful. One of my constant go-tos when I wake up!

Submitted by ForestWitch
A smooth, strong cuppa. Fantastic blend.

Submitted by J
The traditional way the Irish make tea is have it simmering on the stove all day long.
Much appreciated this.

Submitted by rogerbenham
we love this one, too bad its out of stock

Submitted by tanis
Can't go wrong with a cup of Irish Breakfast! It doesn't even have to be breakfast to enjoy a steamy hot cup. This tea has a lovely fruity/sweet aroma and a wonderfully dark infusion color. If you're a strong tea lover you should definitely try out Irish Breakfast!

Submitted by Human
Superb

Submitted by CharlesE
Improve Productivity -
by Safiya Motala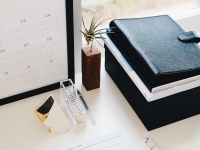 There are numerous ways to increase productivity, here are our favourites, tested and approved by the Shanti Team!
1 – Create a plan of attack for your day, and stick to it.
Organizing your day can be incredibly helpful for productivity. If you know what you intend to work on at each point in the day, you can eliminate distractions. The trick is finding the balance between not enough detail and too much detail. Ideally, you want to know what time you switch from one task to the next, and potentially save yourself some time between tasks for a quick break as well as 10-15 minutes for unexpected things (returning phone calls, urgent emails, etc.).
2 – Prepare your to-do list a day ahead, and keep it short
To-do lists are wonderful for productivity, to help keep you focused, help you to create a plan of attack for your day, and let's not forget that feeling of satisfaction when you cross an item off your to-do list. Preparing your list the day before helps in two ways. 1) it helps you get right to work in the morning; 2) it helps you sleep...
---
Breakfast Tea: It Was Always English -
by Shanti Tea
In the days when England ruled the world, there was no reason to specify that something was or was not "English" – it was simply assumed that it was. Therefore the famous morning beverage that we know as English Breakfast Tea was merely called Breakfast Tea in England, the quintessential representation of British teatime culture.
Contrary to popular belief, however, English Breakfast Tea did not get its start in England, but rather in America, where as early as Colonial Times colonists referred to this slightly sweet, strong black liquid as a representation of the mother culture. Another myth cites its origination in New York City in the mid-19th century, when an enterprising tea merchant invented a prototype that quickly became popular.
This full-bodied black blend is representative of our Canada tea company's ability to take an old classic and update it with delicious, lovingly sourced organic ingredients. Typically drunk with milk and sugar, this exotic blend of teas is traditionally imported from such...