Instructions
Serving Size: 3g /cup
Steeping Temp: 100°C
Steeping Time: 5 mins.
Certification: Organic
Origin: China
Caffeine: Caffeine Free
Ginger Root
Ginger root, with its ancient history and immense health benefits, has been hailed by many cultures as a spice of the heavens. Ginger is a common cooking spice and can be found in a variety of foods and drinks, including ginger bread, ginger snaps, ginger sticks, and ginger ale. Ginger can be used fresh and dried. Both forms of the herb are aromatic and pungent. Ginger is a stimulant and a carminative. Fresh ginger contains more water and is milder while the dried form is stronger and has more penetrating action.


Vata: Ginger is a warming, aromatic herb with a long history of medicinal uses, most notably for digestion, nausea, gas and cramps. It's heating and digestive properties make it useful for a Vata imbalance.
Tasting Notes
Certification: Organic
Grade or Quality: C/S

Have you tried Ginger Root? Tell us what you think!
Please login or create an account in order to post a review and rating.
Great taste and value!

Submitted by kristah19
A lovely addition to a home made masala chai, or to add/amp up the ginger flavour in any number of teas or herbal tisanes!

Submitted by lvchai
I love adding ginger to my black tea in the winter. It adds warmth and addresses any minor indigestion issues.

Submitted by Henrike
Quick way to add a bit more zing to your beverage. I add it to my morning sencha.

Submitted by smccracken
I brew a cup of this refreshing tea Every day! It's my new health habit.

Submitted by EHillier
I absolutetly love the spiciness ginger brings to my tea. The feeling of it in the back of my throat. What a conforting spice to add to your teas : )

Submitted by Jayberty
Teatail: Grapefruit Ginger Sparkler -
by Safiya Motala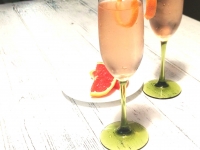 We think the best summer cocktails are full of crisp flavours and offer refreshment in a delicate way. A great way to cut back on added sugars and sweetness is to use tea for your cocktails instead of juices. This summery cocktail pairs our refreshing Pink Grapefruit white tea blend with a touch of ginger liqueur and sparkling wine.
Here's what we love about Pink Grapefruit, besides the fabulous flavour.
Certified organic ingredients
Great source of antioxidants
Hibiscus, orange peel and rosehips have many great properties, one of them being a good source of vitamin C!
Hibiscus is a cooling ingredient, just a touch adds a refreshing feeling.
Sugar-free, gluten-free and vegan
So here is what you need!
Ingredients: 1 tsp Read the rest of the article on our blog.