Instructions
Serving Size: 2.5g /cup
Steeping Temp: 100°C
Steeping Time: 2 to 3 mins.
Certification: Organic
Origin: China
Caffeine: High
Black Lemonade
An incredible iced tea blend, with just the right strength of black tea blended with the natural sweetness of rooibos and zesty lemon. Perfect for cold or hot brewing, our Black Lemonade blend is best taken naturally, with no sugar added, like it's down in the south.. but if you've got a sweet tooth, a little sugar can only make it better! (or vodka for that matter) You'll probably need to get this one by the pound.
Tasting Notes
Certification: Organic
Grade or Quality: TGFOP
Aroma: lemony, citrus
Infusion Aroma: earthy, lemony
Infusion Color: Amber gold
Base flavor: Citrus
Infusion Strength: Medium Strong

Have you tried Black Lemonade? Tell us what you think!
Please login or create an account in order to post a review and rating.
How to make delicious iced tea -
by Richard Isaac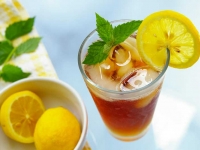 Spring is here, time to break out the iced tea!
There are quite a few methods for making iced tea, selecting the right method really depends on the tea leaves or herbs you are using to make the infusion. You can use any kind of tea or herb to make iced tea, but some are a bit more temperamental and require a bit more attention. Over the past years we've held quite a few iced tea-making workshops so some of our Ottawa customers are probably already familiar with a lot of these iced tea methods, but in case you need a refresher, read on. This guide is intended to help you figure out which method is best for your tea of choice. At the end of the guide will be some links to Shanti Tea's Iced Tea Pouches, which will make iced tea-making this summer deliciously effortless.
Iced Tea Preparation: Read It In The Leaves
The most important factor which determines the method you will be using to make your iced tea...
---
5 Healthy Iced Tea Recipes to Wow your Summer Guests -
by Safiya Motala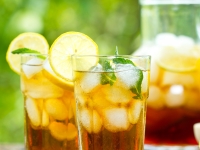 Summer is around the corner, and that means BBQ's, patios, and warm weather. It also means iced tea!
We really have fun with iced tea at Shanti Tea. Combining different teas, adding fruits, potentially adding booze… It's easy to make great iced tea, and it's generally healthier to drink iced tea than any other cold beverage (besides water). Many of our teas are sweet without sugars, so you can enjoy a sweet iced tea if you wish, with zero calories or sugar.
All of these recipes call for sparkling water, you can choose to omit that and just use cold, filtered water instead. Sparkling water is just there for the bubbles.
These are our favourite 5 recipes using healthy, organic ingredients from Shanti Tea.
Banana Colada
Let's start with an easy one. Banana Colada is delicious as is, it's herbal (caffeine-free) and has all the refreshing flavours of the tropics. We made this as a one-time seasonal blend last year, but our customers loved it SO much we brought it back again for another year.
Ingredients:<...