Instructions
Serving Size: 2.5g /cup
Steeping Temp: 80°C
Steeping Time: 2 mins.
Certification: Organic
Origin: India
Caffeine: Medium
Nilgiri Green
In southern India, Nilgiri teas are grown in the Blue Mountains, which is the reason you may hear this tea referred to as Blue Mountain green tea. Teas produced in this region are some of the highest grown teas in the world. This green tea from the Nilgiri region has an earthy, grassy, vegetal flavour, and it is light and crisp. It's a refreshing green tea with a unique flavour profile. A beautiful, pale amber liquor and earthy aroma enhance the experience. This is a tea worth trying and is representative of some of the great quality teas of the Nilgiri region, the one of the most beautiful tea regions in the world.
Tasting Notes
Certification: Organic
Grade or Quality: Loose
Aroma: Grassy, vegetal
Infusion Aroma: Grassy, Earthy
Infusion Color: Light Amber
Base flavor: Earthy
Infusion Strength: Medium

Have you tried Nilgiri Green? Tell us what you think!
Please login or create an account in order to post a review and rating.
I've tried several green teas. This is now my favourite.

Submitted by lassmith
This is a flavorless tea and I would highly recommend this for someone who wants the green tea benefits without the green tea taste. Too bad I bought so much of it!

Submitted by Toolbox
Nilgiri Green has become one of my favourite tea. The mild earthy flavour very appealing to my husband and I.

Submitted by EHillier
Tea and Cheese Pairing -
by Safiya Motala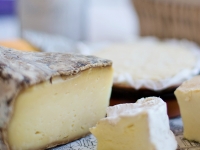 Who can resist cheese? The rich, creamy, sweet, spicy, umami, and/or smoky flavours of different types of cheese are a delicious and indulgent treat. Wine pairs well with cheese, the tannins and astringency help balance the palate from the rich creaminess of the cheese, and vise-versa. Tea works in the same way.
Offering tea to pair with food is not a new concept, and it is quite simple to have a wonderful tea and food pairing from the comfort of your own home.
If you are familiar with wine pairings, you can apply similar principles to tea. For example, you may pair a strong, aged cheese with a bold red wine. The strong cheese will have a high fat content and rich flavours, counteracting high tannins in the bold wine. Neither the wine nor the cheese will overpower the other. One nice perk of tea and cheese is the heat from the tea helps enrich the flavours of the cheese.
Black Teas
Black teas are higher in tannins than other teas, the perfect tea to pair with stronger cheeses.