Instructions
Serving Size: 2.5g /cup
Steeping Temp: °C
Steeping Time: 2-4 mins.
Certification: Organic
Origin: India
Caffeine:
Moringa
Moringa oleifera is a highly valued plant, it has been used for centuries due to its medicinal properties and health benefits. It has been identified by researchers as a plant with numerous health benefits including nutritional and medicinal advantages. It contains essential amino acids, carotenoids in leaves, and components with nutraceutical properties.The leaves contain an impressive array of nutrients ranging from Vitamins A, C and E to Calcium, Fiber, Selenium, Iron and a host of antioxidants. Moringa tea offers an earthy flavor similar to that of green tea. It is less bitter and astringent than most green tea varieties and can tolerate high temperatures and longer brewing times. The tea is frequently flavored with honey, hibiscus, mint, and/or cinnamon to balance out the earthy notes. It has a pleasant, subtle green taste that is much milder than wheat grass. It is considered a wonderful daily herb to support general well-being, vitality and health.
Directions...
Moringa is a tropical flowering plant with many different species ranging from small shrubs to massive trees. Native to India, the Moringa oleifera is the most widely consumed of the 13 species, noted for its numerous nutritional benefits. Affectionately referred to as the "Miracle Tree," Moringa has been a revered botanical in both traditional Ayurvedic and Siddha Medicine for centuries.
Tasting Notes
Certification: Organic
Base flavor: Tropical

Have you tried Moringa? Tell us what you think!
Please login or create an account in order to post a review and rating.
Hibiscus: Health, Uses and History -
by Safiya Motala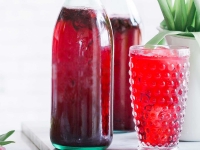 This beautiful flower is native to many tropical regions around the world. It is a popular beverage in Central America, where it is known as rose mallow, flor de Jamaica, or sorrel. It is a type of agua fresca, and is often infused with sweetener, and some regions will add different herbs or spices, such as ginger, cloves, cinnamon and sometimes used as a cocktail by adding a bit of rum or even beer.
In Egypt, Sudan, Middle East it is known as karkadé and has been consumed for centuries as a cooling beverage. It was used in religious healing ceremonies and used by Pharaohs for its cooling properties. Today, it can be found in abundance from street vendors in these regions. It is also still used in wedding ceremonies to give toasts.
Hibiscus is naturally cooling, which makes it a perfect brew in these warmer climates. Hibiscus leaves are also consumed as food, and occasionally candied to top desserts. It is also used to give a sour, tart flavour to savoury dishes, very common in the Philippines.
The flavour of hibiscus...