Instructions
Serving Size: 2.5g /cup
Steeping Temp: 82°C
Steeping Time: 3 mins.
Certification: Organic
Origin: China
Caffeine: Medium
Iron Goddess
Iron Goddess, aka Ti Kwan Yin, is a high-mountain oolong tea from Fujian Province, China. It has a subtle but distinctive flavor, a pale golden color, and a light floral fragrance. The tightly rolled leaves unfurl into large broad green leaves that can be steeped several times. Oolong teas can be an acquired taste if one is used to black teas with milk, however this one is well worth the time, and is very highly recommended.
Story, Folklore, History...

Bodhisattva AvalokitesvaraIron Goddess tea is named after the Bodhisattva Avalokitesvara, known as 'Guan Yin' in Chinese, or 'Iron Goddess of Mercy'. According to legend, there was a poor farmer who, out of reverence and respect, used to sweep the floor and light incense in an old crumbling shrine to Guan Yin. One night, Guan Yin came to him in a dream and told him of a treasure hidden in a cave behind the shrine. Guan Yin asked him to find the treasure and share it with all the villagers. When the farmer looked, he found a tiny tea bush. He brought it to his field and nurtured it and it produced the finest tea in the region. The farmer named this tea Tie Guan Yin.
Tasting Notes
Certification: Organic
Grade or Quality: Leaf
Aroma: Grassy, floral
Infusion Aroma: Lemongrass
Infusion Color: Pale Green
Base flavor: Smoky 
Infusion Strength: Medium-light

Have you tried Iron Goddess? Tell us what you think!
Please login or create an account in order to post a review and rating.
Wuyi Rock Oolong Gets Reviewed on Walker Tea Review -
by Richard Isaac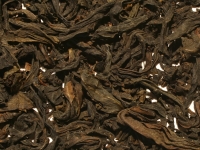 Another great review by Jason Walker of Walker Tea Review. Thanks, Jason, for putting in the time to taste our teas.
Smells like it's been in the smokehouse, it's a bit meaty, salty, smoky, all fused into one—it's a pleasant smell [talking about the leaves]. Nice smooth pour. Good deep amber/dark honey colour. [Tasting now] Think of early stages of lapsong souchong—there's still some smokiness coming out [sounds great for cooking!]. Texture-wise, it's got a smooth, silken aspect to it, a gummy sweetness. 86/100
---
Darjeeling - the "Champagne of Teas" -
by Alicja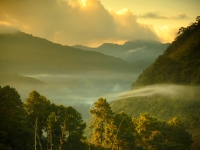 Darjeeling, the land from where the well-known and admired tea comes, famously described as the champagne of teas, is situated in the foothills of the Himalayas, located in the state of West Bengal, India. Ranging from 100-4200 meters, this mountainous region, borders Nepal, Bhutan and Tibet. The cool, damp climate, constant mist and the high elevation of Darjeeling combine to produce a flavor profile typical of Darjeeling. Presently Darjeeling has 87 gardens, spread over 17,500 hectares. It employs over 52,000 people of which 60 per cent are women. The region's economy is heavily dependent on tea. The Plantations Labor Act 1951 protects the rights of tea garden workers. Like Champagne grapes, Darjeeling tea achieved "Geographical Indication" status, protecting the name of "Darjeeling Tea" to be used only on teas produced in that region.
The seasonality of Darjeeling tea, described as flushes, bring out different flavor from the tea that is picked from the same plants during different times of the year.
There are three major tea flushes grown and harvested in Darjeeling:
First Flush (mid-March to May)
Second Flush (June to mid-August)
Third Flush (Autumn Flush) (October to November)
<...