Instructions
Serving Size: 2.5g /cup
Steeping Temp: 100°C
Steeping Time: 5 mins.
Certification: Organic
Origin: Germany
Caffeine: Caffeine Free
Ginkgo Leaf
Ginkgo (Ginkgo biloba) is one of the oldest living tree species. Ginkgo leaf comes from the Ginkgo Biloba tree, also known as the maidenhair fern or the living fossil tree. Ginkgo has a long history of use in treating blood disorders and memory issues. Ginkgo leaf is a popular herbal medicine which originated in the Far East, but is now one of the most widely sold herbal treatments available in North America.
Ginkgo leaf extract is used to treat a variety of conditions. It is said that it can help increase blood flow and aid in circulation. The Ginkgo leaf is also used to prevent muscle pains, cramping or degeneration.
Ginkgo leaves can be used to make a tea, which makes a natural, energizing, non-caffeinated herbal stimulant. Adding Ginkgo leaves to herbal teas helps to increase the effects of other tonic adaptogens or medicinals. For this reason, Ginkgo leaves are often used with other herbs particularly gotu kola, brahmi, tulsi or ginseng. When used with ginseng or tulsi it works synergistically to help increase energy and improve one's ability to concentrate or focus.
To make Ginkgo leaf tea, take 28 grams of dried Ginkgo leaves. Bring 2 cups of water to a boil in a medium saucepan. Remove from heat and add Ginkgo leaves; let steep for 10 minutes. Strain and serve. The Ginkgo leaf tea is often sweetened with honey or sugar in order to give a better flavour.
Tasting Notes
Certification: Organic
Grade or Quality: C/S
Base flavor: Vegetal

Have you tried Ginkgo Leaf? Tell us what you think!
Please login or create an account in order to post a review and rating.
Improve Productivity -
by Safiya Motala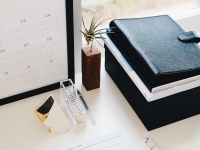 There are numerous ways to increase productivity, here are our favourites, tested and approved by the Shanti Team!
1 – Create a plan of attack for your day, and stick to it.
Organizing your day can be incredibly helpful for productivity. If you know what you intend to work on at each point in the day, you can eliminate distractions. The trick is finding the balance between not enough detail and too much detail. Ideally, you want to know what time you switch from one task to the next, and potentially save yourself some time between tasks for a quick break as well as 10-15 minutes for unexpected things (returning phone calls, urgent emails, etc.).
2 – Prepare your to-do list a day ahead, and keep it short
To-do lists are wonderful for productivity, to help keep you focused, help you to create a plan of attack for your day, and let's not forget that feeling of satisfaction when you cross an item off your to-do list. Preparing your list the day before helps in two ways. 1) it helps you get right to work in the morning; 2) it helps you sleep...