Instructions
Serving Size: 3g /cup
Steeping Temp: 100°C
Steeping Time: 5 mins.
Certification: Organic
Origin: Kosovo
Caffeine: Caffeine Free
Elderberries
The Elderberry is the fruit of a genus of between 5 and 30 species of shrubs or small trees in the moschatel family, Adoxaceae. Black elderberry has been used medicinally for hundreds of years. Some preliminary studies demonstrate that elderberry may have a measurable effect in treating the flu, alleviating allergies, and boosting overall respiratory health.
The elderberries are one of most treasured immune boosters. According to Chestnut School of Herbal Medicine, taken daily throughout the fall and winter, elderberry offers us protection against colds, flu, and other viral infections. And in the case of an illness, elderberry is immune stimulating, diaphoretic (helps to break a fever), and anticatarrhal (decreases mucus in the respiratory passages). Studies show a lessening in the duration and severity of cold symptoms as well as the flu. (https://chestnutherbs.com/5-tonic-herbs-to-boost-immunity-this-winter/)
Directions...

Tasting Notes
Certification: Organic

Have you tried Elderberries? Tell us what you think!
Please login or create an account in order to post a review and rating.
4 self-care routines using tea -
by Safiya Motala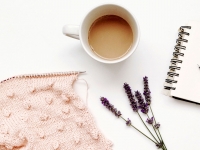 When you love tea as much as we do, you're always looking for ways to incorporate tea into different areas of your life. We hear a lot about self-care. It is important for mental and physical wellbeing, yet we often don't prioritize it.
When we ask people if they think tea fits into their ideas of self-care, we often get comments about tea and books. A cup of tea, a good book and a cozy spot. Sounds pretty perfect, doesn't it? The ritual of tea itself can be a type of self-care routine. A few minutes each day that are just for ourselves, doing something we know we will enjoy.
We have a few other suggestions on how tea can be a part of a daily self-care routine.
Baths
Bath bombs are great and lots of fun, but some of them can be full of ingredients that you may not want to soak your body in. Check out some of our favourite bath soaks.
For all of these soaks, we suggest using a reusable muslin cloth bag, cheesecloth, or a #4 t-sac....