Instructions
Serving Size: 3g /cup
Steeping Temp: 100°C
Steeping Time: 5 mins.
Certification: Organic
Origin: Various
Caffeine: Naturally caffeine-free
Banana Bread
This tea smells and tastes like fresh banana bread, with a subtle nutty chocolate hint. You have got to try it to believe it, the smell and flavour are decadent. We love this tea after a meal, it's caffeine-free and feels as indulgent as any dessert could be.
Tasting Notes
Certification: Organic
Grade or Quality: Loose
Aroma: Banana bread
Infusion Aroma: Banana bread
Infusion Color: Amber
Base flavor: Banana bread, with a subtle hint of hazelnut
Infusion Strength: Medium-Light

Have you tried Banana Bread? Tell us what you think!
Please login or create an account in order to post a review and rating.
So good! One of my favourites!

Submitted by kristah19
this tea has a great smell and a lingering taste of banana bread after you sip..so delightful

Submitted by mashavoo
It is part of my nightly pre-bed spiritual retreat. It is just divine. It is delicate without the strong rooibos flavor that can sometimes overwhelm a tea. I love it.

Submitted by Bluebell Rivers
Tastes just like the real thing!! Wonderful!!

Submitted by Niobegirl
The fragrance is sublime and the tea is a tasty after dinner treat with no caffeine. I added a touch of sweetener ( stevia ) and pinch of cocoa may also be added but not necessary. Excellent tea!

Submitted by cuppaT
This tea is straight up DELICIOUS. It smells unbelievably good and has a wonderful smooth, sweet, taste.
If you like bananas, you will LOVE this.

Submitted by Pylon
Cinnamon - history, varieties and health benefits -
by Safiya Motala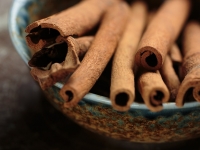 Cinnamon has a rich and exotic history over the last 4000+ years. It has been used in foods as a medicine, a spice, to preserve meats, and was seen as a luxury item only accessible to the wealthy. Ancient Egyptians even used cinnamon as an embalming agent. Arab merchants, who kept the source of this ingredient a secret for many years, distributed cinnamon in limited quantities in order to maintain a monopoly on the expensive cinnamon trade.
Today, there are two varieties of cinnamon that we encounter most frequently. Cinnamonium cassia (cassia cinnamon) and Cinnamonium zeylanicum (Ceylon cinnamon). Some people refer to Ceylon cinnamon as true cinnamon. There is some debate on the superiority of Ceylon cinnamon vs. cassia.
Ceylon
Offers a more delicate flavour, and is slightly sweeter. Excellent for use in desserts.
Considered by some to be the superior cinnamon, and is more expensive than Cassia.
According to Health Canada's Natural Health Products database, Cassia can be used to treat bowel complaints (dyspepsia, flatulency,...