Instructions
Serving Size: 2.5g /cup
Steeping Temp: 100°C
Steeping Time: 5 mins.
Certification: Organic
Origin: Various
Caffeine: Naturally caffeine-free
Banana Bread
This tea smells and tastes like fresh banana bread, with a subtle nutty chocolate hint. You have got to try it to believe it, the smell and flavour are decadent. We love this tea after a meal, it's caffeine-free and feels as indulgent as any dessert could be.
Tasting Notes
Certification: Organic
Grade or Quality: Loose
Aroma: Banana bread
Infusion Aroma: Banana bread
Infusion Color: Amber
Base flavor: Sweet
Infusion Strength: Medium-Light

Have you tried Banana Bread? Tell us what you think!
Please login or create an account in order to post a review and rating.
This tea is very sweet. Smells amazing, tastes pretty good. I took some stars off because it doesn't quite taste like banana bread to me.

Submitted by Jdeltin
This tea is AMAZING! Sweet, decadent, and perfect balance of flavours. Really does taste like banana bread. One of my new faves!

Submitted by alessandra1135
So good! One of my favourites!

Submitted by kristah19
this tea has a great smell and a lingering taste of banana bread after you sip..so delightful

Submitted by mashavoo
It is part of my nightly pre-bed spiritual retreat. It is just divine. It is delicate without the strong rooibos flavor that can sometimes overwhelm a tea. I love it.

Submitted by Bluebell Rivers
Tastes just like the real thing!! Wonderful!!

Submitted by Niobegirl
The fragrance is sublime and the tea is a tasty after dinner treat with no caffeine. I added a touch of sweetener ( stevia ) and pinch of cocoa may also be added but not necessary. Excellent tea!

Submitted by cuppaT
This tea is straight up DELICIOUS. It smells unbelievably good and has a wonderful smooth, sweet, taste.
If you like bananas, you will LOVE this.

Submitted by Pylon
Homemade Granola -
by Safiya Motala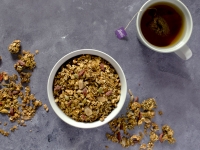 Granola is such an easy thing to make at home! It only takes a few minutes of prep work, then it can sit in the oven with minimal attention. We have a great recipe for homemade granola that is easily adaptable, gluten-free, and can be made with ingredients available at Shanti Tea (except the coconut oil, salt and maple syrup). Let us know your thoughts and your favourite way to enjoy granola in the comments below.
Ingredients: