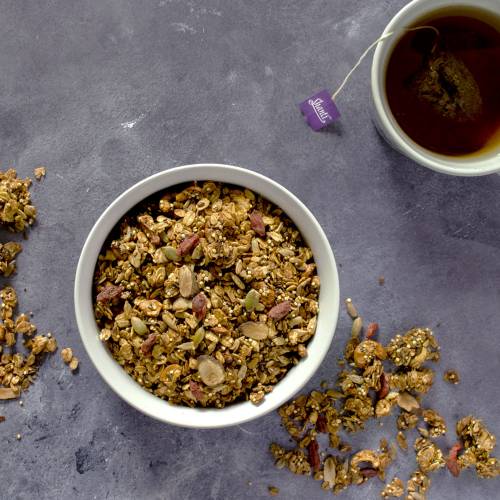 Granola is such an easy thing to make at home! It only takes a few minutes of prep work, then it can sit in the oven with minimal attention. We have a great recipe for homemade granola that is easily adaptable, gluten-free, and can be made with ingredients available at Shanti Tea (except the coconut oil, salt and maple syrup). Let us know your thoughts and your favourite way to enjoy granola in the comments below.
Ingredients:
Directions:
Soak dates in hot water for 10 minutes.
Preheat oven to 250°F
In a large bowl combine all dry ingredients.
In a blender, pulse dates with 1 tbsp of soaking water with melted coconut oil and maple syrup. Blend until smooth.
Slowly add the wet ingredients to the dry ingredients, stirring the mixture as you go. Stir will to combine.
Line a baking sheet with parchment paper. Spoon your mixture onto the sheet. If you prefer chunky granola, press the mixture together firmly, to form a compact rectangle.
Put in the oven for 30 minutes. Check after 20, if one side has become more golden, rotate your baking sheet. After 30 minutes carefully flip over pieces of granola (if you prefer chunky granola) and return to the oven for another 20-30 minutes.
Remove from oven, add in goji berries, and set aside until cool. Once completely cool, you can break up your granola and store in an airtight jar for 1-2 weeks.
There are a few great variations for this recipe.
Add 1 tbsp cacao powder and cacao nibs for a cacao granola.
Use a mashed banana instead of dates (or along with dates) and add coconut flakes after baking for banana coconut granola.
Use ⅓ cup pumpkin puree instead of dates, add ground cloves, ground ginger, ground nutmeg and ground allspice to taste. Pumpkin pie granola!
Not interested in oats? Try adding more nuts and seeds in place of the oats.