Instructions
Serving Size: 2.5g /cup
Steeping Temp: 100°C
Steeping Time: 10-May mins.
Certification: Organic
Origin: Argentina
Caffeine: High (mate)
Yerba Mate (Green)
Get your energy boost from Green Yerba Mate! A milder tasting, fresh and woodsy mate variety.
Story, Folklore, History...

Yerba Mate is a tea made from nourishing leaves of the South American rainforest holly tree, Ilex paraguariensis. People of South America have been drinking Yerba Mate for centuries enjoying its rejuvenative, invigorating and nourishing effects. Yerba mate contains caffeine, theophylline, and theobromine. Unlike coffee, yerba mate is not acid forming, so it is less likely to cause stomach acid and jitters. It has a low tannin content so it does not taste bitter like coffee. It also contains a number of other nutrients, including antioxidants, amino acids, polyphenols, vitamins and minerals. Traditionally, yerba mate is drunk sweetened, from a gourd (mat´e) through a silver straw.
Tasting Notes
Certification: Organic
Grade or Quality: Loose
Aroma: Woodsy, grassy
Infusion Aroma: Woodsy
Infusion Color: Pale Amber
Base flavor: Earthy
Infusion Strength: Medium-Light

Have you tried Yerba Mate (Green)? Tell us what you think!
Please login or create an account in order to post a review and rating.
Yerba Mate -
by Safiya Motala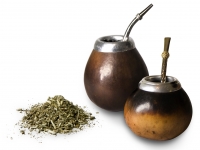 Yerba mate has been increasing in popularity over the past few years. If you haven't tried out this herb, ask for a sample with your next order, we'll include it for free until the end of August 2018.
What is Yerba Mate?
Yerba mate is a caffeinated herb found in South America, most popular in Argentina, Brazil, Paraguay and Uruguay. It has been consumed in these regions for 500 years and continues to be the beverage of choice, outpacing coffee sales 6 to 1. It grows on a shrub closely related to holly.
It is traditionally a social beverage and a symbol of hospitality. It is said that by sharing the gourd, it brings people closer together. The host will drink the first infusion from the gourd to ensure the yerba mate is ready and the right temperature. The first few sips also have a few pieces of yerba mate get through the straw. Each person will drink the entire gourd full, then pass the gourd back to the host to be refilled for the next person to drink. This continues in a...