Instructions
Serving Size: 2.5g /cup
Steeping Temp: 100°C
Steeping Time: 5 mins.
Certification: Organic
Origin: India
Caffeine: Caffeine Free
Vata Balance
Vata Balance tea is a calming and warming blend of chamomile, fragrant spices and Tulsi (a potent adaptogen). Floral and sweet with a light spicy finish. A perfect tea to relax with, and especially delightful to warm up with on a cool day. Delicious in taste and caffeine free, Vata Balance can be enjoyed at any time of the day. Kids can have it too! Reference: https://www.ncbi.nlm.nih.gov/pmc/articles/PMC4296439/
Story, Folklore, History...

The Vata Dosha:The Vata dosha is characterized by creativity, mental quickness, fast movements, dryness, coldness, roughness, excitability and high energy. An imbalanced vata person responds to stress with fear and anxiety, has racing thoughts, hypertension, and is generally anxious. Our Vata Balance tea is meant to calm the mind and the body and balance the vata constitution.
Tasting Notes
Certification: Organic
Aroma: Sweet, floral
Infusion Aroma: Spicy, floral
Infusion Color: Deep Yellow
Base flavor: Floral
Infusion Strength: Medium

Have you tried Vata Balance? Tell us what you think!
Please login or create an account in order to post a review and rating.
Our Tea Sommelier's top 5 winter warmers -
by Richard Isaac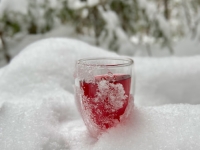 In celebration of Hot Tea Month and to help combat the dark and chilly days of winter, we asked our Tea Sommelier, Alicja, for her top five winter warmers from the Shanti Collection. From strong and spicy to sweet and soothing, each of Alicja's picks promises to warm you up from the very first sip. Explore the list below and find out what makes each of these teas winter-worthy.
Shanti Chai "I love the warming spices in this tea. The flavour and aroma are uplifting and warming from the inside out. I add frothed milk and some honey for that extra warming effect. I love having it in the winter in the morning or afternoon, whenever I need some extra coziness."
Remedy "Thyme tea has a special meaning to me. My mom would give it to me when I was little and unwell. Remedy has a true warming effect from thyme, elderflowers and elderberries without spiciness. I love it in the summer or in the winter, whenever I...