Instructions
Serving Size: 2.5g /cup
Steeping Temp: 100°C
Steeping Time: 5-10 minutes mins.
Certification: Organic
Origin: India
Caffeine: Naturally caffeine free
Turmeric Root C/S
Organic cut turmeric root from India is perfect to add to your tea for flavour and health benefits. This cut form makes it easy to add turmeric to tea without having powder at the bottom of your cup! Add turmeric c/s to your favourite chai, black tea, herbal teas or use alone with a bit of pepper to help your body absorb the many benefits that turmeric has to offer.


Learn more about the health benefits of turmeric from our friends at CogniTune: https://www.cognitune.com/turmeric-curcumin-benefits.
Directions...
We recommend using a bit more C/S than you would powder, e.g. if you typically use 1 tsp of turmeric powder, try 2 tsp of turmeric c/s. You may have to experiment with proportions.
Tasting Notes
Certification: Organic
Grade or Quality: Cut and Sifted (C/S)
Aroma: Sweet, spicy, earthy
Infusion Aroma: Earthy, spicy
Infusion Color: Yellow
Base flavor: Earthy
Infusion Strength: Medium-Light

Have you tried Turmeric Root C/S? Tell us what you think!
Please login or create an account in order to post a review and rating.
I love adding turmeric to my homemade chai, and often prefer to use the fresh root over powder to keep all the powdered bits out. Fresh root isn't always easy to find, and this cut turmeric is the perfect solution. I need to use more cut dried root than powder. I sometimes just infuse the turmeric c/s in cold milk in my fridge, to make a turmeric milk cold brew, easy to add to chai or drink alone.

Cut turmeric is very hard to find, and even harder to find organic cut turmeric. Really happy with this product!

Submitted by Cindy
What's Tulsi, (Holy Basil)? -
by Richard Isaac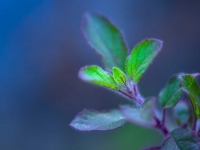 Tulsi, also known as "Holy Basil" "Queen of the Herbs" "Elixir of Life" dates back to literally thousands of years along with Hinduism and Ayurvedic medicine. This herb is revered in India as a sacred herb and is recognized for its spiritually uplifting and healing properties. This aromatic herb has many health promoting properties. Many of you have already learned a lot about Tulsi from our Health Blending Workshops led by Dr. Prakash, but here's a quick recap of what's she's taught us:
Health Benefits of Tulsi
Adaptogen herb; helps build your resistance to stress, and helps to reduce the damaging effects that stress has on the body
Lowers cortisol (our stress hormone)
Improves energy
Has an immediately calming effect that can reduce stress
Promoting enhanced mental clarity & focus
Improves immune system function
Helps to reduce blood sugar levels, blood pressure & cholesterol