Instructions
Serving Size: 2.5g /cup
Steeping Temp: 100°C
Steeping Time: 5 mins.
Certification: Organic
Origin: Various
Caffeine: Caffeine Free
Sweet Dreams
Sweet Dreams is a caffeine-free, aromatic blend of herbs and flowers with a woodsy notes of valerian, best enjoyed in the evenings before bed. Valerian is an herb that has been used for centuries to treat problems like insomnia, nervousness, and headaches. Chamomile has been used as a natural remedy to reduce inflammation and anxiety and treat insomnia. In fact, chamomile is commonly regarded as a mild tranquilizer or sleep inducer. Lavender is a flower well known for its aromatic and soothing scent. Its relaxing aroma might help to unwind, making it easier to fall asleep. Lemon Balm, the citrus-scented, aromatic herb has been used for centuries for reducing stress and improving sleep. Passionflower has been traditionally used to alleviate anxiety and improve sleep. More recent studies have examined the ability of passionflower tea to improve insomnia and sleep quality.
Tasting Notes
Certification: Organic
Aroma: Sweet and woodsy
Infusion Aroma: Sweet chamomile, woodsy
Infusion Color: Pale Yellow
Base flavor: Earthy
Infusion Strength: Medium

Have you tried Sweet Dreams? Tell us what you think!
Please login or create an account in order to post a review and rating.
2020 Back-to-school essentials: Calming teas and adaptogens -
by Richard Isaac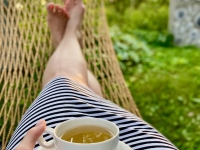 As summer winds down, many of us are preparing for back-to-school amidst a rapidly evolving pandemic. The usual excitement is overshadowed by uncertainty and anxiety due to COVID-19 and many families are facing complex decisions.
Adaptogens and calming herbal teas can help you cope with increased stress. Adaptogens offer the added bonus of immune-boosting properties. Here's a quick guide to this year's back-to-school essentials:
Immunity-boosting adaptogens
Our immune systems are linked to our stress levels. Adaptogens help your body adapt to occasional stress, so if you are looking to boost your immune system, this is your first step.
Explore our selection of adaptogens: