Instructions
Serving Size: 2.5g /cup
Steeping Temp: °C
Steeping Time: mins.
Certification: Organic
Origin: Canada
Caffeine:
Steel Cut Oats
Steel cut oats are made from oat groats which are cut into smaller pieces using a steel blade. Steel cut oats are also sometimes called Irish oats and are most closely related to the original, unprocessed oat groat. Steel cut oats are more coarse than other types of oats, have chewier texture and nuttier flavor. They usually require longer soaking and cooking times. However, you can soak steel-cut oats beforehand to reduce the cooking time. Steel cut oats are high in dietary fiber, have a low glycemic index and can give sustained energy. They make a delicious traditional oatmeal.
Tasting Notes
Certification: Organic
Base flavor: Nutty

Have you tried Steel Cut Oats? Tell us what you think!
Please login or create an account in order to post a review and rating.
Homemade Granola -
by Safiya Motala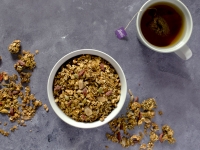 Granola is such an easy thing to make at home! It only takes a few minutes of prep work, then it can sit in the oven with minimal attention. We have a great recipe for homemade granola that is easily adaptable, gluten-free, and can be made with ingredients available at Shanti Tea (except the coconut oil, salt and maple syrup). Let us know your thoughts and your favourite way to enjoy granola in the comments below.
Ingredients: