Instructions
Serving Size: 2.5g /cup
Steeping Temp: 100°C
Steeping Time: 2 (up to 5 with milk) mins.
Certification: Organic
Origin: Various
Caffeine: High
Spicy Cacao
Chocolate, black tea, chili flakes? Sounds like a great combination to comfort and warm you up! Spicy Cacao is the perfect comfort to help you warm up. The malty black tea is perfectly complemented by chocolate and a little kick from chili flakes. You'll be surprised how quickly this becomes your new winter go to, morning, afternoon and evening.
Story, Folklore, History...

Cacao trees are native to Central and South America. The Aztecs were some of the first recorded to consume chocolate as a beverage. Some sources say they called their hot beverage chocolate, it was consumed as a hot liquid with no sweetening ingredients, but instead with chili peppers to spice up the beverage. Their emperor was said to have drank 50 cups of chocolate each day! When discovered by Europeans, they found the drink to be far too bitter, and added cane sugar to sweeten the rich and bitter product.
Directions...
Be careful not to infuse too long! The longer you steep, the spicier it gets. Start with 2-3 minutes and increase to taste if desired.
Tasting Notes
Certification: Organic
Grade or Quality: Loose
Aroma: Chocolatey
Infusion Aroma: Chocolatey
Infusion Color: Amber
Base flavor: Spicy
Infusion Strength: Medium-Strong

Have you tried Spicy Cacao? Tell us what you think!
Please login or create an account in order to post a review and rating.
This has become one of my favorite teas! I love the spicy kick and combined with the chocolate…how could you go wrong?

Submitted by DebbiBS
A great winter tea! I received this tea as a sample with my order and it is lovely. I don't find the chocolate stands out much at all but I still enjoyed it. The flavour to me was a sweet chai. The spicy flavour comes out more the longer you steep it.

Submitted by kristah19
This has probably become one of my favorites…this infusion is a perfect combination and really clears your sinuses…the longer you steep it the spice kicks up even more!

Submitted by mashavoo
Love the spice kick you get from that blend! WOOW!

Submitted by Tea man
The spicy flavor overpowers the chocolate and tea for me

Submitted by SquareLemons
I really enjoyed this tea, but as the description and other comments note, steeping does bring out some serious spice! For me, this is a great tea when I'm in the right mood for it, but not a go-to, everyday kind of tea.

Submitted by vashti.k.culham@gmail.com
I loved this tea and found the blend of flavours to be excellent for a pick-me-up and a great combination. I prefer it steeped for only 2 minutes, when it leaves a slight heat in the back of the mouth. If steeped for 3 minutes it is too hot for me.
A great tea, worth a try!

Submitted by elliekennard
I tried a sample of this and loved the spice. This was the first one on my order for my cafe.

Submitted by Homeflower
I love this spicy chocolatey blend! Be careful not to infuse for too long, it can get to be too spicy!

Submitted by smotala
Very nice with just enough spices to wake up!

Submitted by mart
Health: The Mighty Cacao Bean -
by Safiya Motala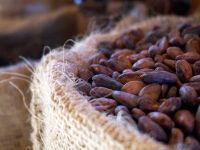 Chocolate has a long and rich history. 4000-5000 years ago (about as old as tea!) the Aztecs were grinding cacao beans and adding to drinks and foods. From there it spread across the world, originally only a luxury the very wealthy could afford. Eventually, chocolate production became easier – the Industrial Revolution helped this – and chocolate became more accessible to all. Today, we see chocolate in everything from inexpensive candy bars to luxury truffles and drinking chocolate. The cacao bean is so widely loved, but only recently is coming into the spotlight as an ingredient on its own. Cacao nibs are great for snacking or cooking with, while real cacao powder is a great ingredient for beverages, baking, smoothies and more.
Luckily for us, these little beans not only make our beloved chocolate treats, they're also full of health benefits!
Antioxidants: Cacao beans are full of antioxidants. Antioxidants help fight damage caused by free radicals in the body.
Flavanoids: Basically the source of antioxidants, flavonoids...
---
5 Warming Teatails -
by Safiya Motala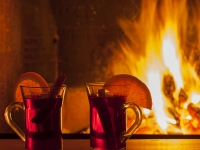 5 Warming Teatails
What is your idea of cozy? A hot cup of tea with a good book? A glass of wine by the fireplace? Or simply, comfy clothes and a strong cocktail?
If these all sound about right, you will love the cozy teatail recipes below. To get started, here is a highlight on a few of the ingredients we're using:
Whisky – Whisky is a pretty easy way to make your drink warming. It has long been used as the beverage of choice to warm up on a cold night, and even used to soothe during times of illness.
Chai – Chai could mean many things, so we're going to use our Chai blend as a reference. Some of the spices in Chai are warming, such as ginger, pepper and cinnamon. Other ingredients are reminiscent of cozy times, such as cloves, that might make you think of the holidays.
Ginger – Ginger is an easy way to make any beverage warming. The spicy, gingery flavour adds a kick to any tea or cocktail.