Instructions
Serving Size: 2.5g /cup
Steeping Temp: °C
Steeping Time: mins.
Certification: Organic
Origin: Bolivia
Caffeine:
Quinoa, White
Quinoa is a small seed native to South America that tends to be used like a grain. Slightly nutty tasting, fluffy when cooked, it does not contain gluten. It is an excellent source of complete protein and it is also a good source of lysine, calcium, iron, phosphorus and even vitamin E and some B vitamins.
Tasting Notes
Certification: Organic
Base flavor: Berry

Have you tried Quinoa, White? Tell us what you think!
Please login or create an account in order to post a review and rating.
Acai Smoothie Bowl -
by Safiya Motala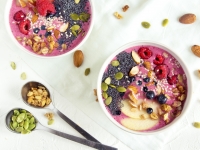 We keep seeing mouth-watering images of smoothie bowls out there, using our organic freeze-dried acai berry powder!
Acai berries are extremely rich in antioxidants, amino acids, fatty acids and dietary fiber. Shanti Tea uses freeze-dried organic acai berry powder, the freeze drying process retains most of the fruits nutrients. Plus, having a powder means it can be easily added to smoothies, baked goods, juices and more.
Besides being rich in antioxidants, here are some of the highlights of this superfood!
Promotes hearth health - The antioxidants and plant sterols in acai berries help improve circulation
Promotes skin health - Foods rich in antixoidants promote good good skin health.
Aids in digestion - Since acai berries are high in fiber, they help to aid the digestive process. 1 tsp of freeze-dried powder contains about 4% of your recommended daily fiber intake
Scroll to the bottom for some of our favourite smoothie bowl toppings!
Smoothie Bowl Recipe
Ingredients: