Instructions
Serving Size: 2.5g /cup
Steeping Temp: 100°C
Steeping Time: 6-Apr mins.
Certification: Organic
Origin: Various
Caffeine: High (mate)
Pear Mate Mojito
We couldn't wait for summer to show off this blend. Yerba mate helps give a wonderful boost of energy, and the invigorating taste of mint, lime and pear, definitely help to lift your spirits and get you ready for the approach of summer.
Tasting Notes
Certification: Organic
Grade or Quality: Loose
Aroma: Lime and pear
Infusion Aroma: Fruity, citrusy, woodsy
Infusion Color: Green/Yellow
Base flavor: Sweet pear, notes of mint and lime
Infusion Strength: Medium-Light

Have you tried Pear Mate Mojito? Tell us what you think!
Please login or create an account in order to post a review and rating.
Yerba Mate -
by Safiya Motala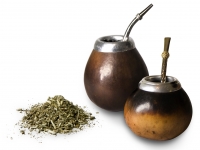 Yerba mate has been increasing in popularity over the past few years. If you haven't tried out this herb, ask for a sample with your next order, we'll include it for free until the end of August 2018.
What is Yerba Mate?
Yerba mate is a caffeinated herb found in South America, most popular in Argentina, Brazil, Paraguay and Uruguay. It has been consumed in these regions for 500 years and continues to be the beverage of choice, outpacing coffee sales 6 to 1. It grows on a shrub closely related to holly.
It is traditionally a social beverage and a symbol of hospitality. It is said that by sharing the gourd, it brings people closer together. The host will drink the first infusion from the gourd to ensure the yerba mate is ready and the right temperature. The first few sips also have a few pieces of yerba mate get through the straw. Each person will drink the entire gourd full, then pass the gourd back to the host to be refilled for the next person to drink. This continues in a...