Instructions
Serving Size: 2.5g /cup
Steeping Temp: 75°C
Steeping Time: 2 mins.
Certification: Organic
Origin: Various
Caffeine: Medium
Lemon Ginger Sencha - Lotus Teabag Collection
Enjoy the popular blend of Sencha green tea, lemon and ginger, a well-balanced combination that is both refreshing and soothing. The flavours of green tea, lemon and ginger pair exceptionally well together and to not overwhelm the palette. This tea can be enjoyed hot or cold and would compliment many dishes. Also makes a great after meal tea.
Tasting Notes
Certification: Organic
Grade or Quality: Teabag
Aroma: Lemon, ginger, hints of grass
Infusion Aroma: Lemon, ginger, grassy, slightly vegetal
Infusion Color: Pale yellow
Base flavor: Citrus
Infusion Strength: Medium

Have you tried Lemon Ginger Sencha - Lotus Teabag Collection? Tell us what you think!
Please login or create an account in order to post a review and rating.
Delicious! The aroma when you open the tin is delightful, it doesn't have any of that sort of bitterness that green tea can sometimes have. Really great!

Submitted by Riverside Spa
Delicious tea! Known as 'feel better' tea among our kids- this is what comes out at the hint of a cold. A great balance between the lemon and the ginger- one does not overpower the other. A regular in our house.

Submitted by Dianaf26
Health: Ginger Root -
by Safiya Motala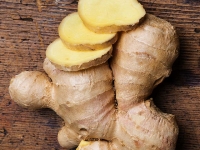 Latin: Zingiber officinale. Ginger is in the same family as turmeric, cardamom and galangal.
The history of ginger in food and health is long and diverse. It was used as a tea, the fresh root grated and infused in boiling water for 15 minutes to treat ailments such as bronchitis, colds, congestion, fatigue, cramps, cold hands and feet and digestive issues. It was also considered to be an aphrodisiac. In addition to the health benefits, ginger also has a rich culinary and folklore history.
Health
There are many potential benefits of consuming ginger root, read 10 of those below:
Fights infections: Gingerol can help lower the risk of infections and obstruct the growth of many different types of bacteria.
Great for teeth! The properties which help ginger root fight infections is also linked to combatting gingivitis and periodontitis.
Lowers cholesterol: Ginger is heart healthy! It has been linked to lowering cholesterol levels in some studies.
Eases muscle pain: With continued use, ginger has shown to relieve muscle pain related to exercise.