Instructions
Serving Size: 2.5g /cup
Steeping Temp: °C
Steeping Time: mins.
Certification: Organic
Origin: South Africa
Caffeine: Naturally Caffeine Free
Espresso Ground Rooibos Tea
Rooibos is the national drink of South Africa, harvested from the indigenous shrub. It is naturally caffeine-free and full of antioxidants, making an excellent beverage choice for all people of all ages. It is traditionally consumed like black tea, infused in boiling water and topped with additions of your choice, milk, sugar, honey, lemon, etc. The flavour is rich, woodsy, nutty, slightly sweet with citrus notes. A complex and delicious brew, great for any time of day. Espresso cut rooibos can be put through an espresso machine for a shot of red espresso. The resulting flavour is similar to regularly infused rooibos, but stronger and with more depth. It forms a rich crema and looks exactly like a shot of espresso, only red! You can use the shot as you would espresso: consume as-is or add steaming milk for a latte. It's a great option for after a meal or for those who are sensitive to caffeine.
Directions...
Use similar ratios as you would espresso, 14g per ounce of water.
Tasting Notes
Certification: Organic
Grade or Quality: Espresso ground
Aroma: Woodsy, sweet, nutty
Infusion Aroma: Woodsy, sweet, notes of citrus and nuts
Infusion Color: Red
Base flavor: Chocolate
Infusion Strength: Strong

Have you tried Espresso Ground Rooibos Tea? Tell us what you think!
Please login or create an account in order to post a review and rating.
Great concept but doesn't actually work in an espresso machine, at least for me. It doesn't pack down, and my shots just ran through it with no back pressure. I tried a pre-infusion as well. Better just as a regular tea! The quality of the rooibos itself is excellent.

Submitted by Oberon
Amazing! Love rooibos tea, so good in a latte

Submitted by Marrello
Red Lattes - Rooibos-based espresso! -
by Safiya Motala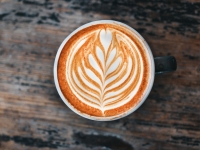 A rooibos latte, or red latte, is a delicious tea latte recipe that uses naturally caffeine-free rooibos instead of coffee. The result is a smooth, rich and complex latte that can be enjoyed any time of day. The natural sweetness of rooibos makes it pleasant without any added sweeteners.
Shanti Tea offers a cut of Espresso Ground Rooibos, or Roospresso, that can be made using your espresso machine! You can enjoy a shot of rooibos espresso, or use it in a latte, or however else you enjoy espresso (affogato perhaps?)
Why? Sometimes you crave a latte, but not looking for the jittery rush of caffeine. Or perhaps you don't drink coffee, but would like an earthy, complex flavour to your tea latte. Finally, you may love espresso, and want something kid friendly so they can feel grown up and enjoy a latte or sip on Roospresso while you enjoy your espresso.
Rooibos is a wonderful tisane from South Africa, where many people consume it similarly to how we prepare black tea (with milk, lemon, honey or similar accompaniments). It comes from...