Instructions
Serving Size: 2.6g /cup
Steeping Temp: 100°C
Steeping Time: 2 to 5 mins.
Certification: Organic
Origin: India
Caffeine: None
Decaf Chai
A traditional chai recipe, now with a flavorful decaf black tea from India. Sweet anise notes are distinctly present in the infusion aroma and flavor, carried by clouds of sweet and spicy cardamom and warming ginger. You won't want to miss this one, truly a delight to the taste buds!
Directions...
Steep for 2 - 5 min. Milk can be added on longer infusions.
Tasting Notes
Certification: Organic
Grade or Quality: OP
Aroma: spicy ginger, fragrant sweetness
Infusion Aroma: cardamom, ginger, slight sweetness
Infusion Color: Amber
Base flavor: cardamom, pepper lingers
Infusion Strength: Medium Strong

Have you tried Decaf Chai? Tell us what you think!
Please login or create an account in order to post a review and rating.
Love this caffeine free chai. My favorite 'comfort' tea on a cold winter evening.

Submitted by mart
This is my favourite tea when I feel like a treat. Add milk and a few drops of stevia and satisfaction guaranteed,

Submitted by Glenn Langille
I searched all over for a decaf chai that didn't have "natural flavours" in it. Because of a food sensitivity I cannot have them. Not only did this chai fit the bill, but I was thrilled to realize it was probably the best cup of chai I've ever had. Thank you Shanti!!!

Submitted by Katiesmom
Note: It's caffeine free rather than "high

Submitted by Andrea Soto
Health: Spices to Warm Up With -
by Safiya Motala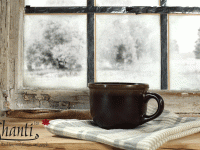 With the change in seasons, a lot of us are beginning to think about cooler weather and getting prepared for that. It's instinctual and for a good reason. We want to prepare ourselves physically and mentally as well as ensuring we have the necessary products to survive. These days survival is less of an issue during colder months, but it is always important to make sure you're well prepared. That's how we enjoy a happy and healthy winter!
Shanti Tea offers a wide range of teas, herbs, and spices that are great for cooler weather. Learn more so you can stock up and be ready for anything.
Warming herbs:
Cinnamon

What it does: This sweet and spicy ingredient helps to stimulate circulation. It also helps to maintain healthy blood-glucose levels and aid in digestion while providing a great source of antioxidants.
How to use it: Use cinnamon in all sorts of recipes. Add to oatmeal, smoothies, curries, salads, sauces, the list goes on! If you want to enjoy...