Instructions
Serving Size: 2.5g /cup
Steeping Temp: °C
Steeping Time: mins.
Certification: Organic
Origin: Vietnam
Caffeine: Naturally caffeine-free
Coconut Shredded
Organic shredded coconut, medium cut, without added sugar, flavor or sulfates.
Tasting Notes
Certification: Organic
Grade or Quality: Dried food
Base flavor: Sweet

Have you tried Coconut Shredded? Tell us what you think!
Please login or create an account in order to post a review and rating.
Cinnamon - history, varieties and health benefits -
by Safiya Motala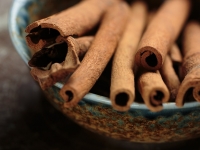 Cinnamon has a rich and exotic history over the last 4000+ years. It has been used in foods as a medicine, a spice, to preserve meats, and was seen as a luxury item only accessible to the wealthy. Ancient Egyptians even used cinnamon as an embalming agent. Arab merchants, who kept the source of this ingredient a secret for many years, distributed cinnamon in limited quantities in order to maintain a monopoly on the expensive cinnamon trade.
Today, there are two varieties of cinnamon that we encounter most frequently. Cinnamonium cassia (cassia cinnamon) and Cinnamonium zeylanicum (Ceylon cinnamon). Some people refer to Ceylon cinnamon as true cinnamon. There is some debate on the superiority of Ceylon cinnamon vs. cassia.
Ceylon
Offers a more delicate flavour, and is slightly sweeter. Excellent for use in desserts.
Considered by some to be the superior cinnamon, and is more expensive than Cassia.
According to Health Canada's Natural Health Products database, Cassia can be used to treat bowel complaints (dyspepsia, flatulency,...
---
The Hindu Origin of Coconuts, and our Coconut Chai -
by Richard Isaac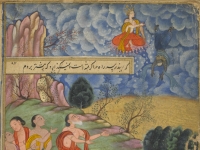 The principal ingredient of our Coconut Chai has an interesting origin story in Hindu Mythology. According to this legend, a Hindu sage named Vishwamitra decided to help his friend, the kind King Trishanku, fulfill his lifelong dreams to ascend up the sky to the heavens, to the realm of the gods. The gods themselves were not too keen on this dream, however.
Once Vishwamitra began to send Trishanku up to the heavens through Yajna (a sacrificial Hindu ritual), the king of the gods, Indra, saw Trishanku rising high into the sky. Indra became enraged, and as soon as Trishanku had made it to the gates of heaven, he grabbed Trishanku and threw him down, back to the Earth.
Vishwamitra, seeing that his friend was falling rapidly from the sky, cried out: "Let Trishanku stay where he is now!" So, Trishanku was stuck in the sky, somewhere between the earth and heaven. However, Vishwamitra knew that unless he was physically propped up, he may eventually slip and continue his horrible descent, and so he planted a mighty pole to prop up Trishanku...