Instructions
Serving Size: 2.5g /cup
Steeping Temp: 100°C
Steeping Time: 5 mins.
Certification: Organic
Origin: India
Caffeine: Caffeine Free
Cilantro Leaf
Cilantro leaf is a member of the carrot family it is also called Chinese Parsley and Coriander leaves. Cilantro comes from coriander plant where cilantro is the leaves while coriander is most often referred to as the seeds of the plant. Cilantro has a very pungent scent and is frequently found in Mexican, Caribbean and Asian cooking.
Like parsley, cilantro is often sprinkled on the top of cooked dishes, curries, sauces, soups and stews. Cilantro is most commonly used in Mexican dishes like bean dips, salsas or mixed with sour cream for use as a topping for burritos, chili, enchiladas or tacos.
The coriander plant grows wild in Europe and is also harvested in China, Egypt and India. It was introduced into Mexico and Peru by the Spanish conquistadors where it is now commonly used in the local cuisine.
Most cooks prefer to use fresh cilantro but when the fresh is not available, dried can be used in the same way. To use dried cilantro in place of fresh, take 2 Tablespoons of dried cilantro for every 1/4 cup of fresh.
Story, Folklore, History...

Coriander, like many spices, contains antioxidants, which can delay or prevent the spoilage of food seasoned with this spice. A study found both the leaves and seed to contain antioxidants, but the leaves were found to have a stronger effect.
Tasting Notes
Certification: Organic
Grade or Quality: C/S
Aroma: Strong, herbaceous
Base flavor: Vegetal

Have you tried Cilantro Leaf? Tell us what you think!
Please login or create an account in order to post a review and rating.
Ayurvedic Cleansing Kitchari -
by Safiya Motala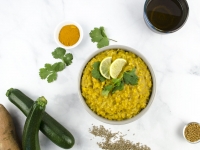 A lot of cleanses and detoxes out there may leave you feeling lighter, but also a bit crazy and deprived. Kitchari (or kitchadi) cleansing is deeply rooted in Ayurveda. The concept is a meal that is easy to digest and nourishing for the body. Kitchari offers a complete protein, and essential nutrients for your body.
About this cleanse
This cleanse is a monodiet, which means you will be eating this for all meals each day. Generally, a kitchari cleanse is followed from a short 3-day cleanse, to a longer 2 weeks. If this is your first time, start with 3 days. For breakfast, some kitchari cleanses suggest a simple oatmeal could be substituted for kitchari.
Look for split yellow mung beans. This is recommended because it is said to not produce gas, which is important when considering that the point of a kitchari diet is to have a meal that is easy to digest. White basmati rice is used for the same reason. The hull is removed, making it easier on digestion than brown rice.
There are many versions of kitchari available, but all follow the same basic concept -...