Instructions
Serving Size: 2.5g /cup
Steeping Temp: 100°C
Steeping Time: 5 mins.
Certification: Organic
Origin: Various
Caffeine: Caffeine Free
Candy Cane
A refreshingly minty and deliciously sweet herbal blend. Uplifting, energizing and refreshing. So similar to the taste of a candy cane, yet healthy! Fun and festive tea suitable for all members in the family. Grampa will like it after a big meal and kids will love it too! It is our seasonal blend, so try it now or you will miss it!!
Tasting Notes
Certification: Organic
Aroma: Minty
Infusion Aroma: Minty
Infusion Color: Golden Brown
Base flavor: Minty (sweet, refreshing mint)
Infusion Strength: Medium-strong

Have you tried Candy Cane? Tell us what you think!
Please login or create an account in order to post a review and rating.
Holiday blends, gift ideas and memories -
by Richard Isaac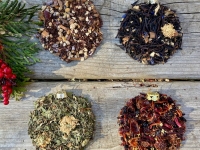 There's something about the holidays – and those weeks leading up to them – that feels a bit magical. It's a time of year filled with excitement, nostalgia, tradition and, most importantly, family and friends.
This year, the holidays may feel a little different, but it's still a time to make memories.
We are thrilled to share our holiday tea collection with you and while the teas are reminiscent of some of our favourite holiday memories, we hope they will help you create special holiday memories of your own.
We've also included a few gift ideas and some fun, tea-themed activities to inspire your holiday cheer!
Holiday tea blends
Winter Wonderland – Vanilla, spice and everything nice! A warming black tea blend with notes of ginger, cinnamon and clove. It smells just like creamy egg nog.
Chocolate Orange – A delicious blend of honeybush, cacao and orange peel, this caffeine-free dessert blend is the real-deal and a...
---
Tea Gift Buying Guide -
by Safiya Motala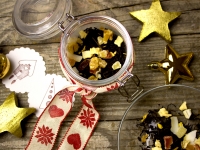 Are you shopping for the tea lover in your life? With all of the choices, the perfect tea gift might seem overwhelming!
Teabags or Loose?
This may be an easy questions to answer. Does the giftee prefer teabags over loose leaf? If you aren't sure, go with loose leaf.
Tea bag tea drinkers and loose leaf tea drinkers may both enjoy a quality loose leaf tea, but many loose leaf tea drinkers will not enjoy a teabag.
There are a number of reasons why loose leaf is popular. One big one is the complexity of the tea leaf. Tea leaves expand in water, while the leaves open up, it releases a more complex flavour. Teabags can prevent the leaves from fully opening. Do you ever notice the need to dunk and stir your teabag, and seeing a wave of dark tea infusion seep out of the teabag and into your mug?
Teabags are often made with a low grade of tea called dust and fannings. This is a tea leaf cut very small, often the leftovers in the production of whole leaf tea. Cut leaves are...