Instructions
Serving Size: 2.5g /cup
Steeping Temp: °C
Steeping Time: mins.
Certification: Organic
Origin: Ecuador
Caffeine:
Cacao Nibs
Shelled and crushed cocoa beans. Raw and dried with warm (not hot) air. They can be further roasted to acquire different roasting strengths for different flavor profiles. Shanti's cacao nibs have a very strong, delicious chocolate aroma and a pleasant semi-bitter flavor, characteristic of the pure Arriba bean. An excellent source of antioxidants, fiber, iron and magnesium. Crunchy but not too hard, excellent as a snack or a topping on smoothies, hot chocolate, latte or baked goodies. Ethically sourced in partnership with small farmers and co-ops. Kosher Pareve Allergen Free
Tasting Notes
Certification: Organic
Base flavor: Chocolate

Have you tried Cacao Nibs? Tell us what you think!
Please login or create an account in order to post a review and rating.
Homemade Chocolate -
by Safiya Motala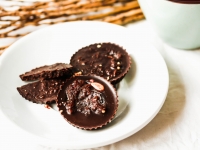 Buying chocolate is great, and it's easier than ever to find healthy options, but they can get pricey! Make your own chocolate that tastes great and is ready in 5 minutes.
Besides saving on cost, making your own healthy chocolate means you get to decide everything!
Shanti Tea sells raw organic cacao powder.
Cacao vs. Cocoa
What is the difference? You've probably wondered why some products are labeled cacao and others cocoa.
Cacao
Cocoa
Cacao is raw, unprocessed (or minimally processed). Cocoa is the processed version of cacao. More antioxidants than cocoa. High in antioxidants, but lower than cacao. Excellent source of essential fatty acids, fiber, iron, copper, zinc, magnesium, calcium and sulfer. Looses some nutritional benefits during processing. It offers many of the same nutrients, but in lower quanitiies.
Homemade 3-Ingredient Chocolate
Making chocolate doesn't have to be a multi-day process! Our simple recipe uses only three ingredients and is ready to eat in 10 minutes or less.
The fun part is the add ins! Try experimenting with ingredients. Here are a...