Instructions
Serving Size: 2.5g /cup
Steeping Temp: 100°C
Steeping Time: 2-5 mins.
Certification: Organic
Origin: Various
Caffeine: High
Banana Chocolate Latte
A sweet and delicious break from plain old coffee! Banana Chocolate Latte pairs the flavours of earthy pu-erh, dark chocolate, sweet bananas and coffee to create a must have tea blend for coffee and tea lovers!
Tasting Notes
Certification: Organic
Grade or Quality: Loose
Aroma: Banana, chocolate, hint of coffee
Infusion Aroma: Banana, chocolate, hint of coffee
Infusion Color: Dark amber/brown
Base flavor: Sweet chocolate and banana with a subtle coffee note
Infusion Strength: Strong

Have you tried Banana Chocolate Latte? Tell us what you think!
Please login or create an account in order to post a review and rating.
Delicious blend! I thought the banana would be washed out from the stronger coffee and chocolate flavours but you can still taste it.

Submitted by kristah19
loving it..no need to add sweetener for me…you get the real natural flavor

Submitted by mashavoo
Good but not my favorite, taste more chocolate and coffee than banana

Submitted by Kiki27
I love the subtle notes of banana, chocolate and coffee. Its not overpowering with flavour, and it has such a pure, natural taste. One of my favourites

Submitted by Marrello
This is one special blend, did you know it has banana in it?! Love it!

Submitted by Tea man
MMM… hints of banana bread and chocolate liqueur. Great with a splash of milk.

Submitted by HushTea
Decadent is the word - with a splash of milk, it's trully a liquid desert - yummy!

Submitted by caromarco
Tried couple of sample and i have to say it does taste great with a little milk!

Submitted by Tea man
OMG this tea is so tasty. Banana, chocolate, tea and coffee? I'm in love with this blend!

Submitted by Cindy
Homemade Granola -
by Safiya Motala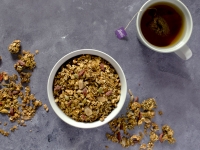 Granola is such an easy thing to make at home! It only takes a few minutes of prep work, then it can sit in the oven with minimal attention. We have a great recipe for homemade granola that is easily adaptable, gluten-free, and can be made with ingredients available at Shanti Tea (except the coconut oil, salt and maple syrup). Let us know your thoughts and your favourite way to enjoy granola in the comments below.
Ingredients: