Instructions
Serving Size: 2.5g /cup
Steeping Temp: 100°C
Steeping Time: 2-5 mins.
Certification: Organic
Origin: Various
Caffeine: Caffeine Free
Apple Chai
Apple Chai is a unique blend of apples and sweet spices. It is aromatic and utterly delicious like an apple dessert. Naturally caffeine-free, with notes of sweet cinnamon, fennel, cardamom, little bit of cloves and a hint of ginger. This uplifting tea is great for an afternoon, especially during the Fall. Try it with apple dessert or with cheese. Make your kids try it too!
Tasting Notes
Certification: Organic
Grade or Quality: Loose
Aroma: Apple and spice
Infusion Aroma: Apple and spice
Infusion Color: Pale amber
Base flavor: Fruity
Infusion Strength: Medium

Have you tried Apple Chai? Tell us what you think!
Please login or create an account in order to post a review and rating.
Sweet, aromatic and tasting of only the finest ingredients. I am amazed at how good this is.

Submitted by Jane01
Was wondering about this tea as I do not use milk . This tea is awsome made with hot water. Another winner.

Submitted by Jean
A great caffeine-free chai. Slightly sweeter than most chais. My spouse loves this one!

Submitted by kristah19
Nice caffeine free option to the regular chai for a cool evening!

Submitted by mart
Absolutely delicious!!

Submitted by Niobegirl
Wonderful blend of herbs and spices in this flavourful aromatic blend. What a great smooth tasty treat. Being caffeine free is also amazing!!

Submitted by HushTea
I love the hint of spice in this tea, it's really well balanced. It's got a great sweetness and the perfect amount of spices. Nothing overwhelms anything else. I like it hot but also tried it iced and it makes a wonderful iced tea.

Submitted by Cindy
One tea, five ways -
by Richard Isaac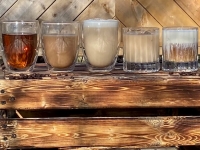 One tea, five ways
This could be the gateway tea that tempts even the most resolute coffee drinker to give up their morning cup of joe.
It's got coffee beans, black tea, a decadent caramel essence and a nostalgic aroma that might pull on your heartstrings a little as you remember the first time you paid $6 for a coffee.
Caramel Latte is a real treat (without the sugars) and now we're going to show you five ways to enjoy it – from simple to luxe!
Black – pure, nothing to see here. Just let the flavours and aromas speak for themselves. The caramel and coffee flavours are joined by malty notes and a faint chocolate aroma.
A little milk please – nothing too fancy, but a splash of milk adds a creaminess that also complements the caramel.
Getting steamy – adding steamed milk to this tea really takes the experience to a whole new level. The milk is velvety and it matches the decadence of the coffee and caramel flavours....